Time flies and another year went by. ANL is 16 years old now!
In the past 16 years, ANL is grateful for each loyal customer's consistent support.
Last year, we hosted a prize drawing event and gave away a Tesla Model 3 car and IPHONE8 etc. The prize drawing will take place in a few days. Please stay tuned and you may be the lucky winner!
In the past year, we found out many new customers are recommended by their friends because of ANL's the superior speed and reliability of our shipping service.
ANL wants to give back to our customers as we grow as a company.
Therefore, we decide to introduce ANL friend referral reward system. Recommend ANL's service to your friend and get $50 reward with your friend. Current prize pool is one million dollars and each customer could repeatedly claim this referral prizes!
What are you waiting for? Tell all your friends and family now!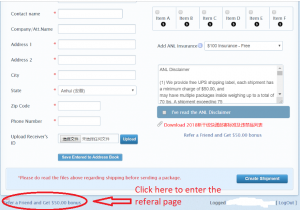 We have attached the online shipping guideline for your reference.
Please scan the QR code below to follow our WeChat official account so you can get shipping updates, access to ANL promotions and events, latest service updates and real time customer service!
Stay in tuned for more benefits and promotions in 2018!